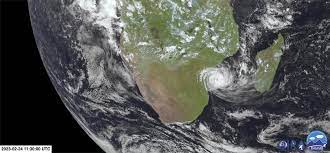 In the everyday news cycle here in the US, we are so self-absorbed that the news around the world is barely a blip on our radar! This situation has been going on for nearly 6 weeks! This storm has been circling around in the Indian Ocean and after hitting the coast of Mozambique 3-4 weeks ago, went back out to sea, picked up some more strength and came back with a vengeance for a second, record-breaking time. Pray for our friends in Mozambique, for their safety, protection from disease, their food and water supplies, In Jesus Name!
Thanks NPR for the article!
https://www.npr.org/2023/03/14/1163380089/cyclone-freddy-malawi-mozambique-flooding-mudslides
Thanks to Wikipedia for this Article:
Very Intense Tropical Cyclone Freddy was an exceptionally long-lived, powerful, and deadly storm that traversed the southern Indian Ocean for more than five weeks in February and March 2023. Freddy is both the longest-lasting and highest-ACE-producing tropical cyclone ever recorded worldwide. It was the fourth named storm of the 2022–23 Australian region cyclone season, and the second very intense tropical cyclone of the 2022–23 South-West Indian Ocean cyclone season.
Freddy first developed as a disturbance embedded within the monsoon trough on 4 February 2023. While in the Australian region cyclone basin, the storm quickly intensified and became a Category 4 severe tropical cyclone, before it moved into the South-West Indian Ocean basin, where it intensified further. The Joint Typhoon Warning Center (JTWC) estimated 1-minute sustained winds of 270 km/h (165 mph) at Freddy's peak strength, equivalent to Category 5 strength on the Saffir–Simpson scale. On 19 February, Météo-France (MFR) upgraded it to a very intense tropical cyclone, estimated 10-minute winds of 220 km/h (140 mph). Freddy made its first landfall near Mananjary, Madagascar. The storm rapidly weakened overland but re-strengthened in the Mozambique Channel. Shortly afterward, Freddy made second landfall just south of Vilankulos, Mozambique, before rapidly weakening. Unexpectedly, the system managed to survive its visit in Mozambique and emerged back over the channel on 1 March. Soon after, Freddy was re-classified as a tropical cyclone by the MFR. Over the course of 10 days, Freddy rapidly intensified on two occasions, eventually slowing to a semi-stationary movement near Quelimane, Mozambique. Moving northwest inland, the storm gradually deteriorated and last noted on 14 March.
Latest posts by Steve Mathews
(see all)